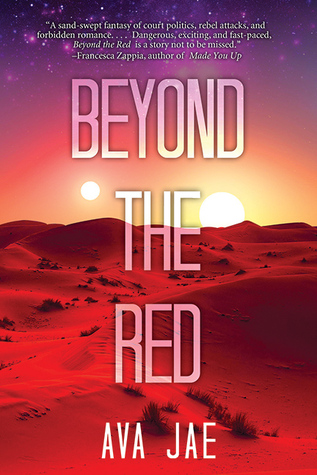 So! YA Scavenger Hunt is over (and for those of you who participated—I hope you had fun!), and for the hunt as exclusive content I shared BEYOND THE RED's query. Now that the hunt is over, however, I thought it'd be fun to share with you guys.
So without further ado, here is the query that led to my signing with an agent:

Dear Ms. Fury:

I am querying you because you requested that I do so with the first three chapters of my manuscript after reading my Secret Agent pitch.
Kora, an eighteen-year-old alien queen, has a problem as vast as the endless crimson deserts. As she's the first female ruler of her territory in generations, her people clamor for her younger twin brother on the throne, even in the face of his violent rages. But despite assassination attempts, a mounting insurgency of nomadic human rebels, and pressure to find a mate to help her rule, she's determined to protect her people from what think they want: her brother ruling them.
Eros is a nineteen-year-old rebel soldier hated by aliens and human alike for being a half-blood. But that doesn't stop him from defending his people, at least until Kora's soldiers raze his camp to the ground and take him captive. He's given an ultimatum: be an enslaved bodyguard to Kora, or be executed for his true identity—a secret kept even from him. Some choice. Without another way out, he begrudgingly agrees to keep her safe.

When Kora and Eros are framed for the attempted assassination of her betrothed, they must flee. Alone, under the light of the four moons, Kora realizes her feelings for Eros may be more than respect. But out in the vastness of the desert, they aren't safe from predators—or dehydration. Their only chance is to turn themselves in to the high court, but when they uncover a violent plot to end the human insurgency in the process, they must find a way to work together to prevent genocide.

SLAVE & SIRA is a dual-POV 74,000-word New Adult Sci-Fi novel with crossover potential that may be described as THE GIRL OF FIRE AND THORNS on a technologically advanced alien planet. It is a standalone novel with series potential.

I run a writing blog, Writability, which is two years old and receives nearly 1,000 daily page views. I've also written guest posts for top-tier blog Problogger, and I am a reading intern at [redacted literary agency].

Thank you for your time and consideration.
Fun asides:
Beyond the Red was originally New Adult (which surprises approximately no one when I mention it).


Beyond the Red's old title is not nearly as awesome as the one it ended up with (have I mentioned how much I agonize over titles?)


This query was actually later revised again and again and again as I continued submitting to other agents (before I got the call, of course). Goes to show there's some wiggle-room in terms of polish.


Due to a blog contest (which I mention here) my now-agent actually read the first page before the query. Which in this case worked very well in my favor. :)
Twitter-sized bite:
Want to see a query that worked? @Ava_Jae shares the query that led to her signing w/ an agent. (Click to tweet)